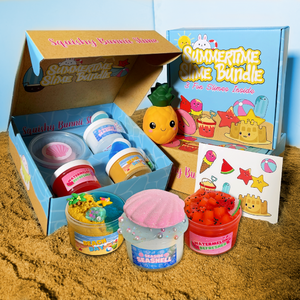 SUMMERTIME SLIME BOX
SquishyBunnii
Regular price $45.00 Sale
Here's what's included in the Summertime Slime Box! 
3 EXCLUSIVE SLIMES!
Seaside Seashell Clay Kit :  A Clear Icee Slime scented like Pink Beaches, It will be accompanied by a seashell clay piece and 1 oz of light blue jelly slime to assemble onto your slime. Packaged on the side will be Iridescent glitters and pearls to top off your Seashell slime.
Beach Day : A Cloud Slime scented like Blue Hawaiian, Accompanied by 1oz of ocean blue clear slime. It will come with 3 charms total, A palm tree, seashell, and starfish for you to assemble onto your slime.
Watermelon Refresher:  A light jelly slime topped off with jellycubes, It will include faux watermelon seeds and a watermelon charm inside the slime. 
FUN EXTRAS INCLUDED: Pineapple Squishy, Sticker Sheet (7 Stickers).
ALL ORDERS ALSO INCLUDE: Slime Activator Spray, Anti Stick for Hands, Post Card + Slime Care Sheet
NOTE: SLIME IS NOT EDIBLE. Do not consume. Keep slime away from pets, furniture, and clothes. Wash your hands thoroughly before and after handling slime. 
Important: Please make sure to input your correct address. We cannot re-route your package once it has left our facility.
For Questions or Concerns, please email us at squishybunniihelp@gmail.com